DIY HACKNEY ART FAIR
Link
24.08.2014 :: 00:36
comment (0)
"On August 30th/31st we'll be launching our first D.I.Y. Art Market at Abney Hall, Stoke Newington. We'll be hosting more than 50 of London's (and beyond) best and brightest creators and independent makers.
Join us on Facebook here http://on.fb.me/1kb4X3R
Hope to see you all there!" Hackney Flea Market
https://www.facebook.com/HackneyFleaMarket
Marcelina Amelia Solo Exhibition at Haberdashery - Stoke Newington London
Link
09.08.2014 :: 02:19
comment (0)
It makes great happiness and pleasure for me to invite you to my Solo Exhibition at The Haberdashery -PS. They have amazing coffee! - The Haberdashery Stoke Newington
170 Stoke Newington High Street
London N16 7JL
http://www.the-haberdashery.com/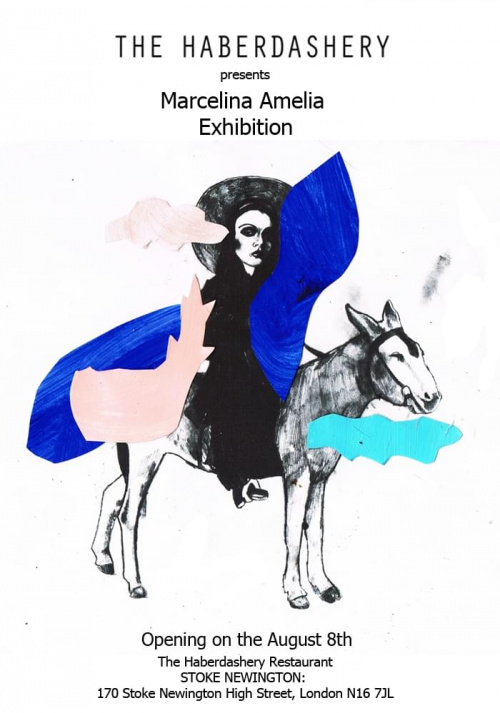 Elevated Artfair 7/ Pop Up Gallery 1 & 2
Link
09.08.2014 :: 01:47
comment (0)
FIND ME HERE:
Elevated Artfair 7/ Pop Up Gallery 1 & 2
8 - 22 August 2014
Units 39 & 43 - 45 Leadenhall Market EC3V 1LR
Open Now for a limited time only!


A revolving exhibition featuring original artworks and prints by some of the best emerging and established
Artists in London.Plus Live art & LMTD Edition flyers giving you 10% off selected art at this years Elevated Artfair.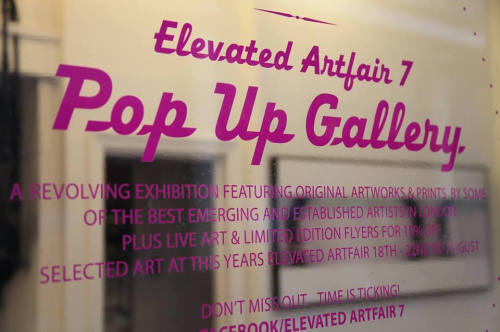 Summer Of Somwhereto_ Group Exhibition
Link
26.07.2014 :: 17:03
comment (0)
Summer Of Exhibition
Link
25.07.2014 :: 14:49
comment (0)
Summer Of Exhibition
29
th
- Private view 5pm-8.30pm
30th –Public view 10am-7pm
31st- Public view 10am-7pm
Location
91Peckham High Street
London
SE15 5RQ
Little Summer Benefits
Link
22.07.2014 :: 23:35
comment (0)
This Thursday evening
the 2014 version of
Little Summer Benefits
opened (for a two week run) at our battle space down in Vyner Street. A two week long evolving affordable art affair and busy walls alive with attitude as well as smaller pieces of art (priced between £1 and £200) Paintings, prints, drawings, photographs and more… an affordable affair for everyone's benefit.
Art tarts, painted vinyl, What Julia Made, Ben Naz punk queen prints, Quite British Accent Blimey pieces, slang pennants, squalor alive in every corner, things left on the floor …. Bring your own drink, we'll bring the art and the sunshine. well we'll probably bring some drink as well (there's some fancy magazine launch over the street, go drink their free frink)
Artists featured on the Little Summer Benefits walls (and in the racks) include
ANNA ARBITER, BEN NAZ, CARNE GRIFFITHS, D7606, EMMA HARVEY, GARETH MORGAN, GILES SKERRY, HELEN GRANT, JULIA MADDISON, MARCELINA AMELIA, MARTIAL DUROU, MATHEW TUDOR, MICHELLE MILDENHALL, PETER SULO, QUIET BRITISH ACCENT, SEAN WORRALL, ZOE CROSSE
and more t.b.c
Coming - London Illustration Fair - Summer Festival
Link
28.06.2014 :: 17:51
comment (0)
SUMMER FESTIVAL | 5TH - 6TH JULY 2014 | HOXTON ARCHES E2 BHD
We are back this July with the Summer Festival: Tropicana, turning our playground that is, the Hoxton Arches, into an illustration paradise. Set across two rooms and two outside spaces we will be showcasing a selection of the hottest illustrators, collectives, creative agencies, publications and print studios working in the UK and Europe right now.
The Summer Festival will see us launch our very own pop-up Print Shop featuring a selection of our favourite artists and artworks from the 2013 Fair, as well as a hand picked selection of exciting new artists we have had our eye on for a while. Expect new works from our old favourites including Ruby Taylor, Ben Rothery, Cassandra Yap, Ursula Hitz & Yann Brien, as well as a choice selection of prints from new converts David Shillinglaw, Lau's, Crispin Finn, Marcelina Amelia and Sarah March.
Influence | Contemporary visual arts exhibition | 5th June 2014
Link
07.05.2014 :: 15:42
comment (0)
Marburae Art Gallery
Influence
| Contemporary
visual arts exhibition
"Influence' is set to be one of the most anticipated art exhibitions of the summer."
Giant felt spray cans, visually bold and graphic illustrations
looking at sexuality and a site specific projection influenced by William
Morris' pattern work. 'Influence' is set to be one of the most anticipated art
exhibitions of the summer.
London based artist Lucy Sparrow,
Polish born artist Marcelina Amelia and British Artist Kate Lynch will
transform the gallery and the intersection between art and craft is explored
within 'Influence' and is epitomised with Lucy Sparrow's work. Lucy sets the
agenda for textiles within the urban art scene and her felt giant spray cans
epitomise this and steal the show wherever they are exhibited!
Lucy's work has been shown alongside
Banksy in the 'Urban Art Takeover' and the Victoria and Albert museums touring
art show ' Urban Art Show'
In stark contrast to the bright, bold, felt
work our influence exhibition also features the delicate experimental print
work and site-specific projection inspired by William Morris and created by
Artist Kate Lynch. For those of you, like us, who long over William Morris'
pattern work then this is an exhibition not to be missed!
Our third and final artist is
Marcelina Amelia, Polish born and London based. Her illustrations draw together
the urban and funkiness of Lucy's work with the delicate line work of Kate
Lynch's pattern work. Her work consists of glorious bold illustrations that
look at sexuality and relationships in a style that is inspired by German
Expressionists Ernest Ludwig Kirchner and Egon Schiele.
Marburae Gallery is choosing to
showcase 3 outstanding artists for 'Influence', in a twist to their usual
exhibitions of 12 artists. This is in order to allow each artist space to
showcase large projects that draw the viewer closer to the artist and their way
of working.
The big opening for the exhibition
will take place at Marburae Art Gallery at 7.30pm - 9.00pm on 5th
June 2014. The exhibition will run from 5th June 2014 – 26th
July 2014. For more information please visit www.artinmacclesfield.co.uk
or follow the gallery on Twitter @artinmacc.
Marburae Art Gallery is a new space in Macclesfield dedicated to national and
international contemporary visual Arts.
Exhibition open evening:
5th June 2014: 7.30pm - 9pm
Exhibition dates:

5th June 2014 – 26th
July 2014
Location:
Marburae Gallery, Athey Street,
Macclesfield, Cheshire, SK11 6QU
Monday – Saturday 9.30am - 5.00pm
Admission Free
Contact Marburae Gallery:
Kaite Helps, marburaegallery@gmail.com
Guguły
Link
07.05.2014 :: 14:46
comment (0)
5 FILMÓW O MIŁOŚCI DLA OSÓB NIE LUBIĄCYCH FILMÓW O MIŁOŚCI.
Link
22.03.2014 :: 23:44
comment (0)
5 FILMÓW O MIŁOŚCI DLA OSÓB NIE LUBIĄCYCH FILMÓW O MIŁOŚCI.
"Mam okropną awersję do romansideł. Jeśli bohaterowie i ich dylematy nie wciągają mnie w oderwaniu od romansu, obraz jest przegrany. Chciałbym więc pokazać 5 filmów, w których wątek miłosny został ubrany w coś ciekawego. Zanim jednak przejdę do opowiadania, jeszcze coś: cudne rysunki, które tu widzicie zmajstrowała
Marcelina Amelia
. Dziko dziękuję, dziękuję dziko!"
Niewinni czarodzieje
Andrzej Wajda
Million Dollar Hotel
(reżyseria Wim Wenders, scenariusz Nicholas Klein)
Code 46
Michael Winterbottom,
Frank Cottrell Boyce
Imagine
Andrzej Jakimowski